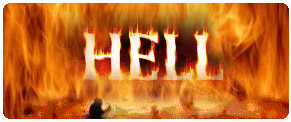 You are about to hear eyewitness testimony on the True Existence of Hell. You listen and make your choice.
Mary Katherine Baxter was chosen by God to let the world know of the REALITY of Hell. Her testimony brings the WORD of GOD to life. Jesus Christ appeared to Mary on 40 consecutive nights and took Mary on a tour of Hell. She walked, with Jesus, through the horrors of Hell and talked with many people. Jesus showed her what happens to souls when they die and what happens to the unbelievers and Servants of God who do not obey there calling. My friends get ready to hear God's Divine Revelation of Hell given by His servant Mary Katherine Baxter.
TO LISTEN to Mary Baxter's Testimony (Time Aprox. 50min) click on the links below. Need help playing these files? Click here for troubleshooting tips!
Click a track to play






Direct links to MP3s
MP3 files are compatible with nearly every home computer and portable audio player on the market.
Click Here For The Full Testimony (18 tracks)
© Mary K. Baxter Ministries. All Rights Reserved.