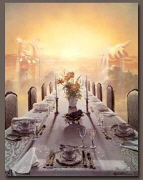 2 In my Father's house are many mansions: if it were not so, I would have told you. I go to prepare a place for you. 3 And if I go and prepare a place for you, I will come again, and receive you unto myself; that where I am, there ye may be also.
John 14:2-3
Jesus said, in this World you will have tribulation but be of good cheer for I have overcome the World (John 16:33) . Jesus overcame and now He wants you to follow Him so that you may overcome & be rewarded. All of us have to overcome temptations from Satan, trials and tribulations. Many of you visiting this site are bound by sin and need to overcome. If you overcome those vices that hinder you God has many rewards for you. The bible says that, we overcome by the Word of our testimony and the Blood of the Lamb. Don't let Satan put fear in you causing you to hide your shortcomings, Satan can only hide behind lies. The Truth shall make you free. Truly Repent of your sin and accept Jesus and Your Lord and Savior. God will forgive you and ask wise Spiritual Christians to help keep you accountable. Below is a few of the rewards promised by Jesus to those who overcome.
Rewards for Overcomers!!!
Revelation 2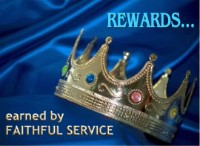 7 He that hath an ear, let him hear what the Spirit saith unto the churches; To him that overcometh will I give to eat of the tree of life, which is in the midst of the paradise of God.
(Adam and Eve were created in a perfect paradise without pain or sorrow. They had been given the right to eat from the Tree of Life and live forever. Once they sinned against God this right was taken from them. Jesus came to take back and restore all things including the right for mankind to eat from the Tree of Life. The Tree of Life is still there in the Paradise of God. The fruit from these trees are Heavenly, perfect and glorious! Adam and Eve where banned from the Garden of Eden after the fall. Through the blood of Jesus that has cleansed us from our sins we who overcome this World will enjoy the fruit from the Tree of Life & live forever as God originally intended.
Revelation 2:8-11
8 These things saith the first and the last, which was dead, and is alive; 9 I know thy works, and tribulation, and poverty, (but thou art rich) and I know the blasphemy of them which say they are Jews, and are not, but are the synagogue of Satan. 10 Fear none of those things which thou shalt suffer: behold, the devil shall cast some of you into prison, that ye may be tried; and ye shall have tribulation ten days: be thou faithful unto death, and I will give thee a crown of life. 11 He that hath an ear, let him hear what the Spirit saith unto the churches; He that overcometh shall not be hurt of the second death.
(Jesus tells us in this passage that we are rich! Since we are rich we should always Rejoice in the Lord! No matter how things look or what man says, Jesus tells us that we are rich. The richest or greatest person on Earth cannot even compare to even the least in the Kingdom of Heaven. Jesus said, Verily I say unto you, Among them that are born of women there hath not risen a greater than John the Baptist: notwithstanding he that is least in the kingdom of heaven is greater than he. (Matthew 11:11)
To be great all you have to do is overcome this World. We also will have a Crown in Heaven! We are joint heirs with Jesus Christ this mean we are royalty. Those who overcome will also not be hurt by the second death. The second death is the Lake of Fire. Those in Hell already are experiencing the 1 st death and after they are formally Judged they, death and Hell will be cast into the Lake of Fire. Understand that all those in Hell will be let out of their torment for the final Judgment. When a person dies their spirit leaves the body and goes to where they are set to spend eternity (Read Luke 16 about the rich man and Lazuras). Similar to our American court system; when person is tried and then found guilty they are usually sent immediately into police custody by the Judge and cast in prison/jail until a day fixed by the Judge for sentencing. All mankind both those in Heaven and in Hell will come before the Throne to be formally Judged or Rewarded. Those who overcome and are saved do not have to worry for the second death has no power over them. The Great White Throne Judgment will take place after the 7yr. great tribulation and the1000 year reign of Christ and the Saints on Earth. Below are passages that describes how this scene will unfold.) Revelation 20 and Matthew 25
Revelation 20:
6 Blessed and holy is he that hath part in the first resurrection: on such the second death hath no power, but they shall be priests of God and of Christ, and shall reign with him a thousand years. 11 And I saw a great white throne, and him that sat on it, from whose face the earth and the heaven fled away; and there was found no place for them. 12 And I saw the dead, small and great, stand before God; and the books were opened: and another book was opened, which is the book of life: and the dead were judged out of those things which were written in the books, according to their works. 13 And the sea gave up the dead which were in it; and death and hell delivered up the dead which were in them: and they were judged every man according to their works. 14 And death and hell were cast into the lake of fire. This is the second death. 15 And whosoever was not found written in the book of life was cast into the lake of fire.
Matthew 25:31 When the Son of man shall come in his glory, and all the holy angels with him, then shall he sit upon the throne of his glory: 32 And before him shall be gathered all nations: and he shall separate them one from another, as a shepherd divideth his sheep from the goats:
33 And he shall set the sheep on his right hand, but the goats on the left. 34 Then shall the King say unto them on his right hand, Come, ye blessed of my Father, inherit the kingdom prepared for you from the foundation of the world
41 Then shall he say also unto them on the left hand, Depart from me, ye cursed, into everlasting fire, prepared for the devil and his angels: 46 And these shall go away into everlasting punishment: but the righteous into life eternal.
(You surely want to be an overcomer and save yourself and others from the sorrow of the Final Judgment. Be an overcomer and never worry for your reward is safe and secure.)
Revelations 2
17 He that hath an ear, let him hear what the Spirit saith unto the churches; To him that overcometh will I give to eat of the hidden manna, and will give him a white stone, and in the stone a new name written, which no man knoweth saving he that receiveth it.
When Moses led the Hebrews out of Egypt they had to travel a long distance to get to the promised land which is Israel. God feed them manna from Heaven. This manna was From Heaven which means it was a perfect food for the healing and nourishment for the body and soul. Jesus when he was asked by the people to feed them as Moses feed Hebrews. He said, John 6: 47 Verily, verily, I say unto you, He that believeth on me hath everlasting life. 48 I am that bread of life. 49 Your fathers did eat manna in the wilderness, and are dead. 50 This is the bread which cometh down from heaven, that a man may eat thereof, and not die. We will also receive a White Stone with our new name inside and no man shall know this name except for the one who receives this stone. Some of you may not be excited but you must remember what this stone symbolizes. When you are married, the bride and groom receive rings. The ring for the bride is usually a single stone or solitaire which symbolizes their love and commitment for each other. The Church is the Bride of Christ. As His bride He will give each of us who overcome a white stone with a name for one who receives it to know only which symbolizes the personal relationship that each of us will have with Our Lord. Think about it this way, there will be a name that Jesus will call you that no one else calls you or even knows. That is an intimacy we have never experienced here in this World.)
Revelation 2
25 But that which ye have already hold fast till I come. 26 And he that overcometh, and keepeth my works unto the end, to him will I give power over the nations: 27 And he shall rule them with a rod of iron; as the vessels of a potter shall they be broken to shivers: even as I received of my Father. 28 And I will give him the morning star
Understand that Jesus died to save us from death and Hell. That is good news but there is more. He also died to give us the right to rule with Him. God intended for man to have dominion. Jesus says that to those who keeps His works unto the End, He will give us power over the nations. Friend, in world we have those who rule. Also; if this was a Monarch the Royal family would rule the nation. Jesus is King of kings and Lord of lords there for He will have rulers who rule under Him. That is what we will be, rulers in The Kingdom of God. We shall rule all that God created.
Hebrews 1:2 – Hath in these last days spoken unto us by his Son, whom he hath appointed heir of all things, by whom also he made the worlds;
All Worlds, all dominions, all authorities are under the Rulership if Jesus Christ. We of all God creatures, though we may seem the least now, are the chosen people of God through Jesus Christ and will rule the nations with Him. No matter who you are all you have to do is overcome this World and you be given power over the nations to rule them with Jesus Christ. Titles in our Church today to not reflect the fact that all believers shall be rulers not just those who bare titles in the Church. So every person matters to God. We are all very valuable and precious to Him.)
Revelation 3: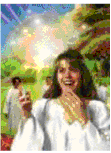 4 Thou hast a few names even in Sardis which have not defiled their garments; and they shall walk with me in white: for they are worthy. 5 He that overcometh, the same shall be clothed in white raiment; and I will not blot out his name out of the book of life, but I will confess his name before my Father, and before his angels
By being an overcomer you will receive a white robe. Not now we know that royal wears robes. This robe is Heavenly, Perfect and Royal. Whiter that any white we've ever seen. Jesus has a book of Life. When you are saved Your names written in the Lamb's book of Life. After you are saved you must now overcome. Satan will try to get you to forfeit your reward by tempting you. Satan wants to defile you so that you will get weary and weak. You must fight the good fight of faith and endure to the end. If you press on through trails and temptations your name will always remain in the Lambs book of Life. If you don't press on, if you don't overcome your name will be blotted out of the book of Life. Don't gamble with your salvation, once saved always saved is not the Truth. You must take your walk with God seriously and endure till the End. Don't sell out for this dying world. This world is nothing compared to what we will receive. You are highly successful in Christ. You only need to "wait on the Lord, and be of good courage and He will strengthen you heart, wait I say on the Lord" -Psalm 27:14)
Revelation 3:
10 Because thou hast kept the word of my patience, I also will keep thee from the hour of temptation, which shall come upon all the world, to try them that dwell upon the earth. 11 Behold, I come quickly: hold that fast which thou hast, that no man take thy crown. 12 Him that overcometh will I make a pillar in the temple of my God, and he shall go no more out: and I will write upon him the name of my God, and the name of the city of my God, which is new Jerusalem, which cometh down out of heaven from my God: and I will write upon him my new name. 13 He that hath an ear, let him hear what the Spirit saith unto the churches.
( We hear great preaching every now and then about the great tribulation that will come upon this earth. Jesus refers to that time here as the hour of temptation. Understand that those who keep the Word of God, referred to here as the word of my patience, will be raptured out of this world. Jesus will keep us from this time period. Quite Frankly, Jesus tell us that this time period is coming upon the Earth to try them the dwell here. We have established the fact that we are Royalty. As the joint heirs with Jesus Christ we will have Crowns. Jesus pleads with us not to let no man take thy crown. The great tribulation will be worst suffering on Earth mankind had ever know. The Antichrist will rule Earth and the world pure Hell. The great tribulation will be many times worst than the Holocaust, worse than Hiroshima, worse than Aids epidemic, and worst than anything we've seen.
Matthew 24:21 – For then shall be great tribulation, such as was not since the beginning of the world to this time, no, nor ever shall be. If you overcome now, you will not have to try and overcome during the tribulation. If men find it hard to be saved now and live for Jesus how can they be faithful during the great tribulation? Jesus said, Luke 23:
29 For, behold, the days are coming, in the which they shall say, Blessed are the barren, and the wombs that never bare, and the paps which never gave suck. 30 Then shall they begin to say to the mountains, Fall on us; and to the hills, Cover us. 31 For if they do these things in a green tree, what shall be done in the dry?
Press on to Overcome now my friend (now's the time). It will not be a better time to follow the Lord than now. You must just do it and trust God to keep His promises to us and He has never Lied!)
Revelation 3:
21 To him that overcometh will I grant to sit with me in my throne, even as I also overcame, and am set down with my Father in his throne. 22 He that hath an ear, let him hear what the Spirit saith unto the churches.
We have expressed the fact that we are in the Royal Family of God. As royalty Jesus will give us the right to sit with Him on His throne as he overcame and sat down with God in His throne.
No job you will ever have in this world has a throne for you to sit upon, not even President of the United States. Even the thrones of kings and queens of this world are only for a short time. Our thrones, crowns and dominion will be forever. Don't you want to be an overcomer and inherit all the things God has for us?
Revelation 21:
5 And he that sat upon the throne said, Behold, I make all things new. And he said unto me, Write: for these words are true and faithful. 6 And he said unto me, It is done. I am Alpha and Omega, the beginning and the end. I will give unto him that is athirst of the fountain of the water of life freely. 7 He that overcometh shall inherit all things; and I will be his God, and he shall be my son.
We are God's son and daughters!!! As His children he will shall inherit all things!!! Saints don't worry about what you are going through. Just fight the good fight of faith and wait until your change comes. The trials we face don't last always. It is for a season. If we suffer with Christ we shall rule with Him. Fight on through the light afflictions (which) are only for a moment. Quit complaining and start rejoicing in the Lord. He has done great things for us.
Romans 8:17 And if children, then heirs; heirs of God, and joint-heirs with Christ; if so be that we suffer with him, that we may be also glorified together.