"For He shall give His angels charge over you, to keep you in all your ways." Psalm 91:11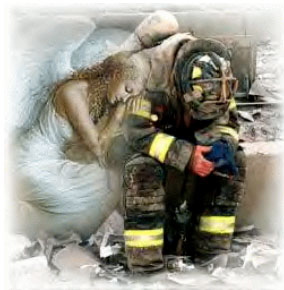 God sends angels to watch over you and protect you as you serve Him. He loves you and He wants only the best for you. Much of the harm in our world is a direct result of Satan and his demonic forces. Satan deceives men and women into thinking that God is the cause of the suffering in our lives but he is a liar God loves you. His Love is evident on Calvary's Cross. No greater love is this, than a man lay down his life for his friends. Jesus not only died for His friends
but also His enemies.
John 15:13 – Greater love hath no man than this, that a man lay down his life for his friends.
Psalms 56:8 – You number my wanderings; Put my tears into Your bottle; Are they not in Your book?
God's love is very Powerful. He cares for you so much that He has numbered the very hairs of
your head. He even puts our tears in a His bottle. If we only knew the Truth of His great
Love we would be like our Savior and Serve God with all our heart. Serve him dear one He will never leave you or forsake you. He is Love and He is not the cause of your suffering. God is waiting of you to stop blaming Him and start serving Him. If we Serve in His Army and, leave the army of God's enemy (Satan) He will make sure all our needs are met.
Jesus Say, in Luke 12:4 – "4 And I say to you, My friends, do not be afraid of those who kill the body, and after that have no more that they can do. 5 But I will show you whom you should fear: Fear Him who, after He has killed, has power to cast into hell; yes, I say to you, fear Him! 6 Are not five sparrows sold for two copper coins? And not one of them is forgotten before God. 7 But the very hairs of your head are all numbered. Do not fear therefore; you are of more value than many sparrows.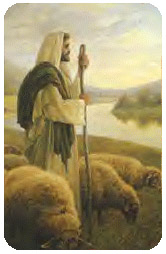 Psalms 23:1-6 – 1 A Psalm of David. The Lord is my shepherd; I shall not want. 2 He makes me to lie down in green pastures; He leads me beside the still waters. 3 He restores my soul; He leads me in the paths of righteousness For His name's sake. 4 Yea, though I walk through the valley of the shadow of death, I will fear no evil; For You are with me; Your rod and Your staff, they comfort me. 5 You prepare a table before me in the presence of my enemies; You anoint my head with oil; My cup runs over. 6 Surely goodness and mercy shall follow me All the days of my life; And I will dwell in the house of the Lord Forever.
This Psalm of David is one most of us who have attended Church regularly are very familiar with. God wants to bless you and the way to all His benefits begins first with acknowledgment of the Lord. "The Lord is my Shepherd I shall not want"!!! If you are in lack do as David did and let the Lord Jesus be your Leader, Comforter, Protector and provide for all your needs as only The Good Shepherd can. The problem here is that most of us are not willing to totally surrender to Him and acknowledge Him in every situation and depend of Him to supply all our needs. We say we have faith but, we don't show we have faith. Faith without works is dead (James 2:20). If you follow Him it takes faith because you don't always understand where He is leading you or what time you will arrive. It is like getting in the Car with your parents as a child. You didn't always know where you were going and you didn't always know the way. You just trusted Mom or Dad to know the way and to provide for you. You followed without doubting.
This same child-like faith is required if the Lord is going to be your Shepherd. He will lead you to green pastures, green does not mean lack, it means abundance. Jesus says in John 10:10 "I have come so they might have life and have it more abundantly. The still waters are another benefit our Lord Jesus provides. He will lead you to place of peace and serenity, there you will find rest for your souls. The World is a fearful, frantic, and Hellish place at times but those who's mind is stayed on Him will be in Perfect-Peace. (Isaiah 26:3 You will keep him in perfect peace, Whose mind is stayed on You, Because he trusts in You.) The peace He gives is not like that the World offers thru medication, drugs, alcohol, or sedatives, His Peace is Perfect. All these benefits belong to the Born Again Believer in Christ Jesus. Jesus said I am the Way, the Truth and the Life (John 14:6). Only Believe the Words of the Good Shepherd and Follow Him only. His sheep know His voice and a stranger they will not follow. He is the Only way to Heaven, He is the Door through which we all must enter.
John Chp. 10
4 And when He brings out His own sheep, He goes before them; and the sheep follow Him, for they know His voice. 5 Yet they will by no means follow a stranger, but will flee from him, for they do not know the voice of strangers." 6 Jesus used this illustration, but they did not understand the things which He spoke to them. 7 Then Jesus said to them again, "Most assuredly, I say to you, I am the door of the sheep. 8 All who ever came before Me are thieves and robbers, but the sheep did not hear them. 9 I am the door. If anyone enters by Me, he will be saved, and will go in and out and find pasture.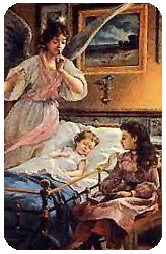 Matt 18:10 – Take heed that you do not despise one of these little ones, for I say to you that in heaven their angels always see the face of My Father who is in heaven.
God loves the little children and if you are a young person visiting this site, God loves you. He doesn't hurt people, He protects them. God sends no one to Hell people choose Hell themselves. Adults if you have little ones the bible is a book you should get them very familiar with. If you don't they will be swept in by this ragging New Age Doctrine that teaches them that God will not punish sin. Let them know that God has a team and Satan does also. If people join Satan's team and live in disobedience to God when they die they go to be with who they served. That is not cruel that is very fair. The trick that Satan has used with great success, is tricking people into believing he does not exist.
Teach them right from wrong and good from evil. If anyone harms children Jesus says if would be better if they tied a stone to their neck and be cast into the sea.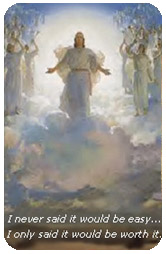 Mt 18:6 – But whoever causes one of these little ones who believe in Me to sin, it would be better for him if a millstone were hung around his neck, and he were drowned in the depth of the sea.
John 14:3 – And if I go and prepare a place for you, I will come again, and receive you unto myself; that where I am, there ye may be also.
1 Corinthians 2:9 – But as it is written: "Eye has not seen, nor ear heard, Nor have entered into the heart of man The things which God has prepared for those who love Him."
Serve Him with all your Heart for He has prepared a Glorious Kingdom for those who endure to the end. If we only believed His Word we would not sin against Him for He only wants the best for us.